EDIT MAIN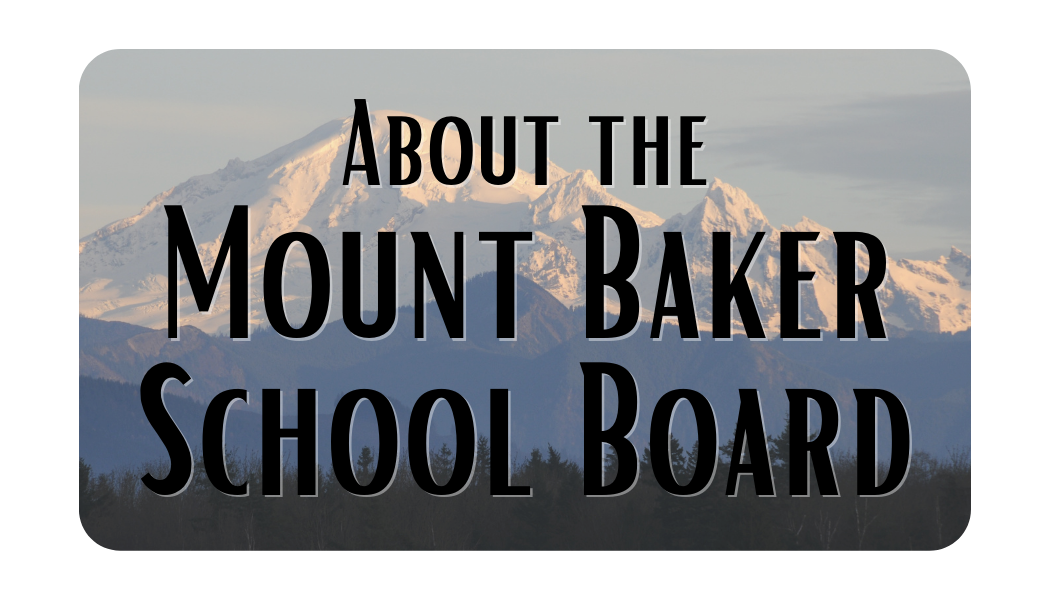 School Board News
---
SCHOOL BOARD MEETINGS, DOCUMENTS, & POLICY
NOTICE: The Evening Board meetings will be in the District Office with limited occupancy due to COVID-19 restrictions. All attendees are required to wear masks and sign in. We encourage interested staff members, parents, and community members to attend via Zoom.
Regular meetings are held at 6:00 PM on the second Thursday and 8:30 AM on the fourth Thursday in the District Office, unless otherwise noted. Meetings are open to the public; the public is invited and encouraged to attend Board meetings.
---
Responsibilities of the School Board
Your Mount Baker School District Board of Directors is composed of five District citizens elected by District voters for four-year terms. Board members serve in an unpaid, voluntary capacity. Although directors are elected to specific areas, they collectively represent the entire district. Board authority is established by the Washington State legislature. Your Board acts under the direction and restrictions of the law. The Board's legal responsibilities are to:
Establish general policy for the school system;
Employ school personnel upon recommendation of the superintendent;
Adopt and revise the annual operating budget;
Inform the public of the needs and progress of the educational system;
Exercise the legislative powers conferred or implied by the legislature in administering school functions; and
Select the superintendent of schools.
---
How to Communicate Questions or Concerns
Before coming to the School Board with a specific question, concern, or issue, we encourage you to begin with the staff member closest to the concern. Most complaints can be resolved by informal discussions with the staff member.
At each "step," the person with the concern should request the person at that level to assist them in the process of moving an unresolved question or concern to the next level:
Discuss the issue first with the teacher, guidance counselor or staff member closest to the concern.
If the issue is not resolved, visit with the principal (this may be the first step if it is a school-wide concern).
If the issue is not satisfactorily resolved at the building level, contact the Superintendent's office at (360) 383-2000.
If still not satisfied, file a written complaint with the Superintendent's office, describing the problem, all steps taken to resolve the issue and a suggested solution. The Superintendent will send copies to the principal and any staff member involved in the complaint. The Superintendent will then attempt to resolve the matter through a conference with the citizen, staff member(s), and principal.
If still unresolved and after all other avenues have been exhausted, the Superintendent will present the issue to the Board. The Board will attempt to make a final resolution of the matter. If the complaint is against a staff member, the Board may call an executive session to discuss the matter. Any formal actions by the Board will take place at an open meeting.