EDIT MAIN
Safety Requirements for Employees
KEY PRINCIPLES FOR REDUCING POTENTIAL COVID-19 EXPOSURE
---
In response to COVID-19, the Washington State Department of Health (DOH), the Washington Office of Superintendent of Public Instruction (OSPI), the Center for Disease Control (CDC) and Washington State Department of Labor and Industries (LNI) outlined various safety and health requirements for staff and students during the 2021-2022 school year.
Mount Baker School District intends to put safety first for everyone, and wants to share with you some of the expectations for returning to campus. These guidelines will be updated as policies, rules or guidance changes. Also, please follow your specific school safety guidelines.
View the K-12 COVID-19 Requirements for Summer 2021 and the 2021-2022 School Year.
View the COVID-19 Vaccination Requirement for K–12 Employees for 2021-2022.
---
Keep ill persons out of school / stay home when sick
No staff, students, parents, guardians, or visitors are allowed on campus if they:
are showing signs or symptoms of COVID-19;
have been in close contact (meaning within 6 feet for at least 15 minutes) with someone who has confirmed COVID-19 in the last 14 days; and/or
have tested positive for COVID-19 in the past 10 days.
Please use the COVID-19 DOH Return to School Guidance flowsheet to identify signs and symptoms when you are ill. This flowsheet will direct you to make a safe decision to stay home, to be tested for COVID-19, and/or to see your healthcare provider.
The District is asking parents/guardians to check their student(s) daily and if there are any of the listed COVID-19 symptoms, do not allow boarding of the bus or arrival at school. They are also asked to let the school know of the absence and if the student is in the hybrid program, to let the school know if the student will be attending remotely.
Staff are expected to follow all District absence guidelines should they become ill. In addition to completing ReadySub, staff will need to advise school administrators as soon as possible, if they have any illness symptoms listed on the COVID-19 flowsheet. You should make an appointment with your health provider, or get COVID-19 testing. If you choose not to see your provider or to be tested, you are now directed to be away from school for 10 days from Monday AND 24-hours after symptoms resolve.
Should a staff become ill at school – Staff need to notify their administrator immediately. Someone will need to finish the class learning activities and you will need to go home immediately.
If a student becomes ill in your classroom – contact the administrator, or as directed, and the student will be immediately picked up from your classroom and escorted to an isolation room for monitoring until parent/guardian pick-up. Do not send an ill student to the health room. The health room will kept for students needing first aid treatment above something that can be cared for in the classroom. If possible, provide Band-Aids in your classroom to prevent student movement in the building. If a student is sent to the health room for first aid, call the front office before sending the student, so the student can be escorted or tracked in the hallways. This is important for contact tracing.
By staying on campus for an extended period, an ill staff or student puts others at risk.
An ill student may not ride the bus home. Parent/guardian will be contacted immediately for pick-up.
Only people directly involved with an ill staff or student will be advised of the situation. Confidentiality is critical for all persons concerned and an illness does not mean a COVID-19 infection.
If we have a confirmed case in the community or in our district and the person was never on campus, and there is no direct contact with anyone on district grounds, confidentiality will be maintained.
In the event that a confirmed COVID-19 case occurs on campus that directly affects staff and/or students, information will be provided per guidelines from the Whatcom County Health Department. No names will be identified.
A confirmed case or cases on campus, may change a hybrid class to remote for a period, may close a classroom(s) for extended periods to ensure cleaning, sanitizing and disinfecting practices are complete, may close a school, or may close the District. The decision is made by the Superintendent and the Whatcom County Health Department.
It is important to know where you and your students have been each day, so that contact-tracing information can be provided to the Whatcom County Health Department as soon as possible in the event of a confirmed COVID-19 case affecting the school. You may wish to develop strict routines throughout the day, so that it is easy to recall your movement and the movement of your students.
---
Cohort of students
Mount Baker will keep students in small groups and prevent mixing of groups to decrease COVID-19 exposure. Students will have their own supplies to avoid sharing common items, and will have staggered schedules for activities to prevent mixing of groups. Any shared learning materials will be cleaned and disinfected. Children's books and other paper-based materials are not a high risk for spreading COVID-19. However, if students take home a book, it will be placed in a sealed bin for 24 hours upon return before another student may take it home.
---
Maintain physical distancing
Physical distancing requirements should not prevent a school from offering full-time, in-person learning to all students/families in the fall.
Maintain physical distance of three feet or more between students in classroom settings to the degree possible and reasonable, that allows for full-time, in-person learning for all students. A school's ability to do so will depend on students' ages, developmental and physical abilities, and available space.
Select strategies to increase physical distancing that will work for your school and the space available. There may be moments, such as passing by others in the hallway or during play at recess when students are not fully physically distanced from each other.
Maximize opportunities to increase physical space between students during all scheduled activities and limit interactions in large group settings.
Maximize distance between students to the degree possible for the following circumstances:
For all students when masks cannot be worn, such as when eating lunch. Reference the CDC's Modifying School Spaces during Meal Times for strategies to increase distance during meal times.
In common areas outside of the classroom.
During high-risk activities when increased exhalation or aerosolization occurs, such as PE or exercise, singing or playing instruments, and cheering or shouting. These activities should be moved outdoors or to large, well-ventilated spaces whenever possible.
---
Perform frequent hand washing
Teachers, staff, and students will have hand-washing times built into schedules. Examples may include any or all of the following: upon arrival at school, before eating, after bathroom use, after blowing one's nose, and at the end of the day. Washing hands with soap and water for at least 20 seconds and drying with a paper towel offers the greatest protection against COVID-19 and other germs. The use of a hand sanitizer (which is at least 60 percent alcohol) will be used when soap and water is not available. Small children should not use hand sanitizer due to putting fingers in mouths and the possible exposure to toxins.
---
Protective equipment
Face Coverings/Masks
Correct use of cloth face coverings or masks helps prevent the spread of COVID-19 and is required when indoors at K-12 facilities for all school personnel, students, and visitors. There are specific exceptions based on age, development, or disability outlined below. See DOH's Guidance on Cloth Face Coverings and CDC Recommendation Regarding the Use of Cloth Face Coverings for more information. In some circumstances, staff may require a higher level of protection. Refer to L&I's Coronavirus Facial Covering and Mask Requirements for additional details.
The CDC's order requiring masks on public transportation, regardless of vaccination status, applies to school buses and transportation. Passengers and drivers are required to wear a mask on school buses.
As noted in the Secretary of Health's Mask Order, face coverings should not be worn by:
Those under 2 years of age.
People with a medical condition, mental health condition, developmental or cognitive condition, or disability that prevents wearing a face covering. This includes, but is not limited to, people with a medical condition for whom wearing a face covering could obstruct breathing or who are unconscious, incapacitated, or otherwise unable to remove a face covering without assistance.
Those who are deaf or hard of hearing, and those who provide their instruction and use facial and mouth movements as part of communication.
In rare circumstances when a cloth face covering cannot be worn, students and staff may use a clear face covering or a face shield with a drape or wrap as an alternative to a cloth face covering. If used, face shields should extend below the chin, wrap around to the ears, and have no gap at the forehead.
Younger students age 2 to 4 years old must be supervised when wearing a face covering or face shield. These students may need help with their masks and getting used to wearing them.
Continue practicing physical distancing while wearing cloth face coverings.
Students may remove face coverings to eat and drink, and when they are outside.
Indoor Mask Requirements
All school personnel, volunteers, visitors, and students must wear cloth face coverings, or an acceptable alternative (e.g., surgical mask or clear face shield with a drape), at school when indoors in accordance with the Secretary of Health's Mask Order. Staff who are verified to be fully vaccinated may be indoors without masks when students are not present or expected to be present.
School districts must support compliance with mask requirements among staff, students, volunteers, visitors, and families.
Outdoor Mask Requirements
Per the Secretary of Health's Mask Order, face coverings are not required outdoors, regardless of vaccination status. Masks are strongly recommended for unvaccinated individuals when outdoors in crowded spaces or when in close contact with people from outside their household for a sustained period of time, as the risk of COVID-19 infection increases with the duration and closeness of contact between individuals. Schools should support students and staff who choose to wear a mask or face covering outdoors.
Types of masks allowed:
All face masks must be at least 2-ply cloth that does not let very much light through the fabric layers when held up to a light, or a non-medical 2-ply disposable mask.
A cotton layer near the face is usually most comfortable. Both mask types should have either ear loops or two ties. Small children should wear ear loops and not ties for safety reasons.
Types of masks not allowed:
Currently there is not enough research for neck gaiters, ski gaiters, or face shields around protection from the spread of COVID-19, so these are not allowed on campus.
Masks that have air valves are not allowed on campus because the valve allows respiratory droplets to spread from the person wearing the air valve mask.
Guidelines from the Center for Disease Control (CDC) to help your child wear a mask correctly: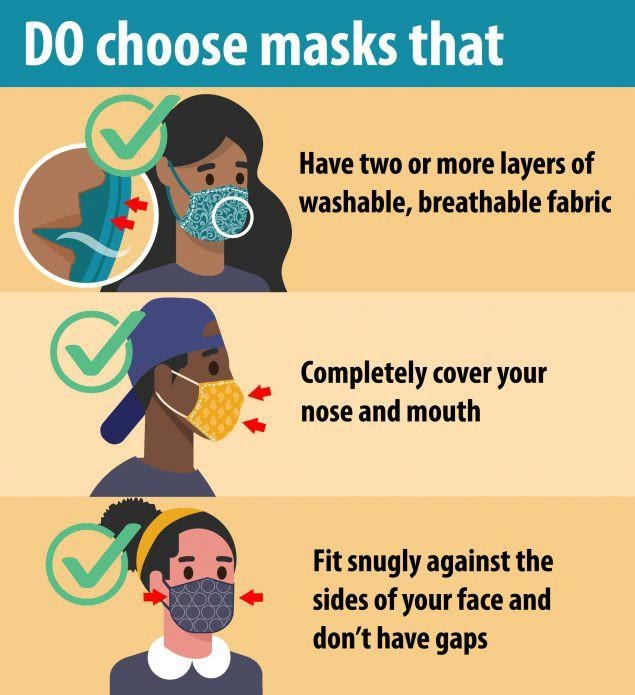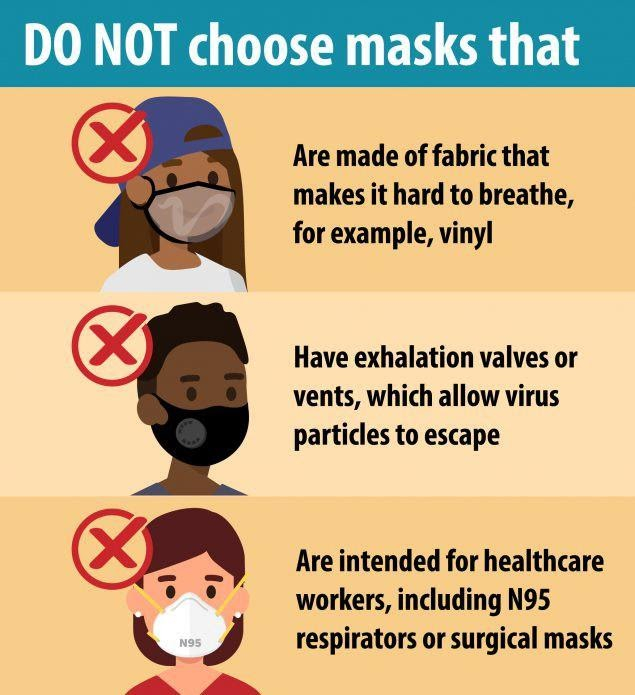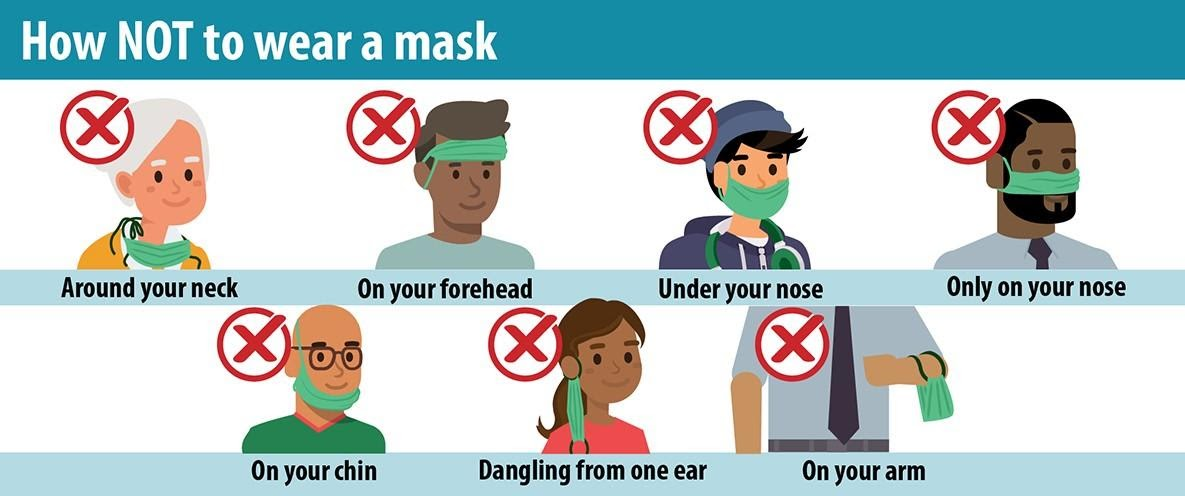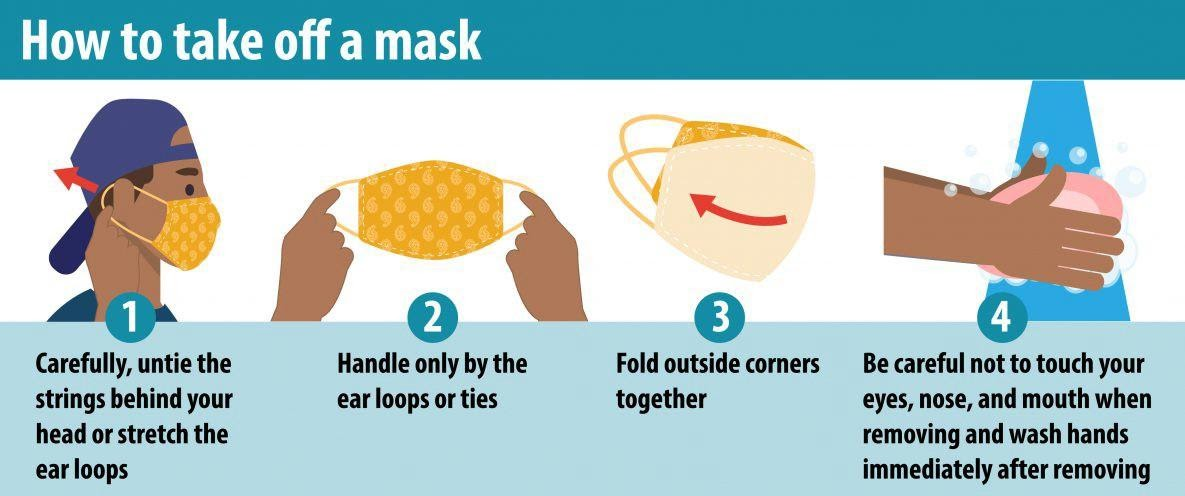 ---
Personal Protective Equipment (PPE)
In addition to masks, staff may need to wear additional PPE depending on job duties or classroom situations.
Staff screening students upon arrival at school will need KN95 masks, eye protection (faces shield and/or eye goggles) and gowns. They may also need gloves in certain situations.
Staff working with students unable to continuously wear a mask will need combinations of the above.
Staff working with students who are unable to maintain a minimum 6-foot physical distance will require additional PPE.
Staff monitoring ill students in the isolation room need full PPE including KN95 or N95 fitted mask (if available), eye protection (face shield and/or eye goggles, gloves, gown and booties if needed.
Mount Baker PPE Guidelines follow the latest OSPI/LNI recommendations for staff.
---
Environmental cleaning/custodial
Students will not assist with cleaning in the schools. Our custodial team is the recognized experts in cleaning, sanitizing, and disinfecting classrooms, offices, common workspaces, restrooms, and other locations on school grounds. Routine cleaning, sanitization, and disinfecting is conducted at least daily. All school buildings will have deep cleanings on Wednesday between cohorts. Sanitizing is generally done by kitchen staff trained in the products and procedures to meet the requirements for food services.
Staff may use soap and water to clean surfaces and/or baby wipes and approved alcohol wipes on electronics per cleaning, sanitizing, and disinfecting guidelines from the DOH, CDC and Whatcom County Health Department.
Staff may not bring in products from home for cleaning, sanitizing or disinfecting. Material Safety Data Sheets must be available for all products used at the school.
The change in cleaning came about for several reasons: improper use of disinfectant wipes, overuse potentially causing mutations, build-up of wipe residue and toxicity on surfaces where food is eaten and developing a false sense of security. Disinfecting wipes also can be asthma triggers, cause skin sensitivity and rashes. Most wipes contain quaternary ammonium compounds (Quats) which may also pose reproductive health risks.
The custodians have been using chlorine-based products for cleaning and disinfecting since March 2020 when cleaning policies for schools changed in response to COVID-19. Never use ammonia and chlorine products at the same time.
Staff may use disinfecting wipes when assisting students with toileting. The disinfectant wipe used in this situation is Hydrogen Peroxide based, on the N-list, a greener product, proven effective against COVID-19, and approved by the Whatcom County Health Department.

Those assisting with toileting: after putting on gloves, wipe down touched surfaces first with a baby-wipe, then while the surface is still wet, use the Hydrogen Peroxide disinfecting wipe and allow it to sit for the dwell and dry time approximately 2 minutes before the next student may use the restroom. Do not cross-contaminate. Use separate wipes for faucets/sinks and a new wipe for toilet handles/seats.
As always, should the room or fixtures be visibly dirty from an accident, please call custodians for assistance.
---
Improve indoor ventilation
The District maintenance team worked with experts on determining which classrooms and buildings have appropriate ventilation and filtration. The rooms that have been determined to lack proper ventilation or filtration are closed for student use and are in process for HVAC upgrades. A map of which classrooms are open/closed is available at the District Office and with school principals. Certain areas will also have portable continuous air circulating machines.
---
Low risk spaces
Outdoor spaces are safer than indoor spaces, so teachers may spend more time outdoors with students when the weather is nice.
---
Bus transportation
Drivers have specific protocols for seating, loading, and unloading buses. Students will be loaded as efficiently and safely as possible, and adjustments will be made when necessary to provide as strong a social distance as available. Students from the same family will be seated near each other. Appropriate windows and vents will be left partially open to help with ventilation. All students and staff will be required to and must wear facial masks on the bus. Buses are cleaned daily and between each route, and deep cleaning is done between cohorts.