EDIT MAIN
Mt. Baker Community Coalition (MBCC)
---
MBCC Newsletter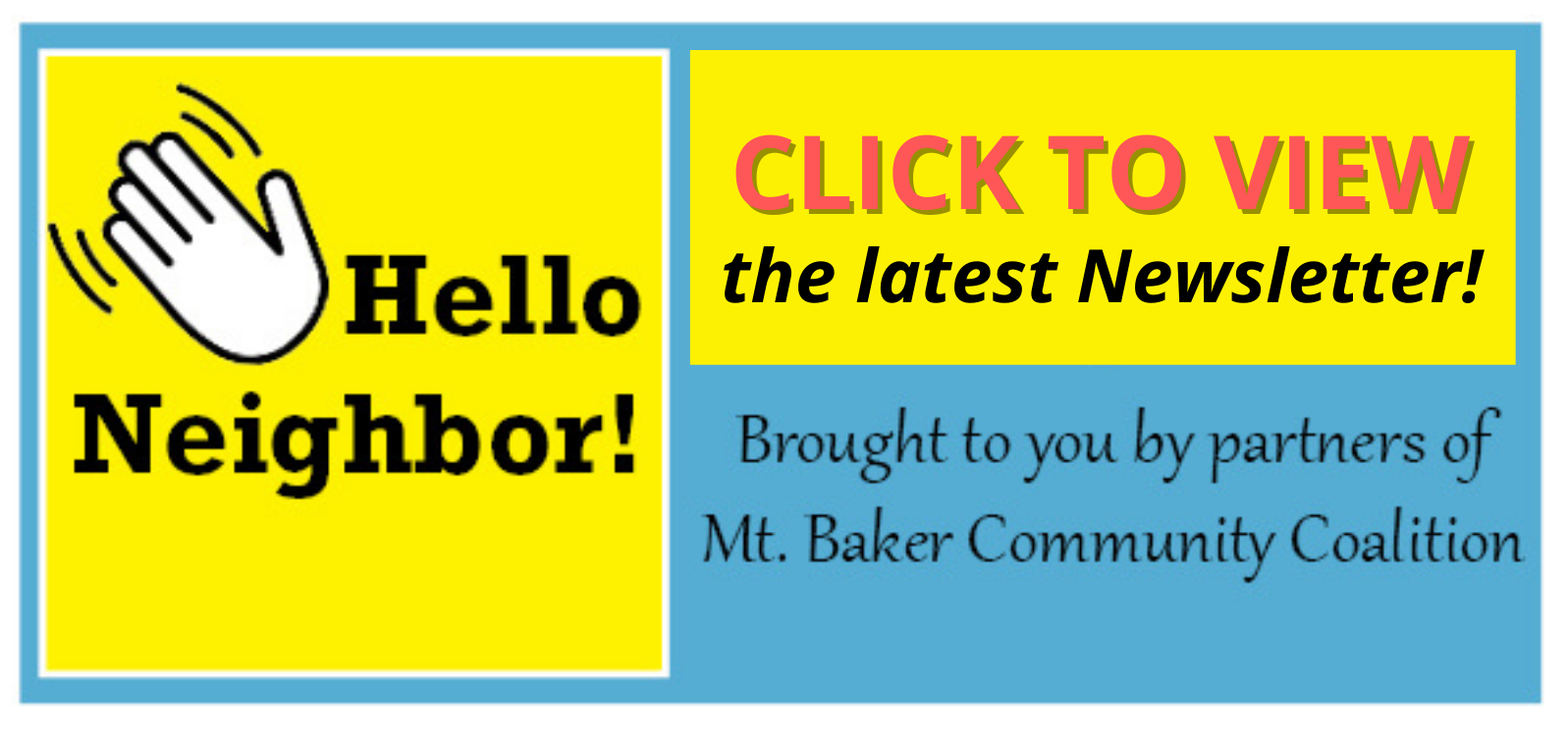 ---
Apply Today! | Summer 2021 Mount Baker Substance Use Prevention Youth Fellow Position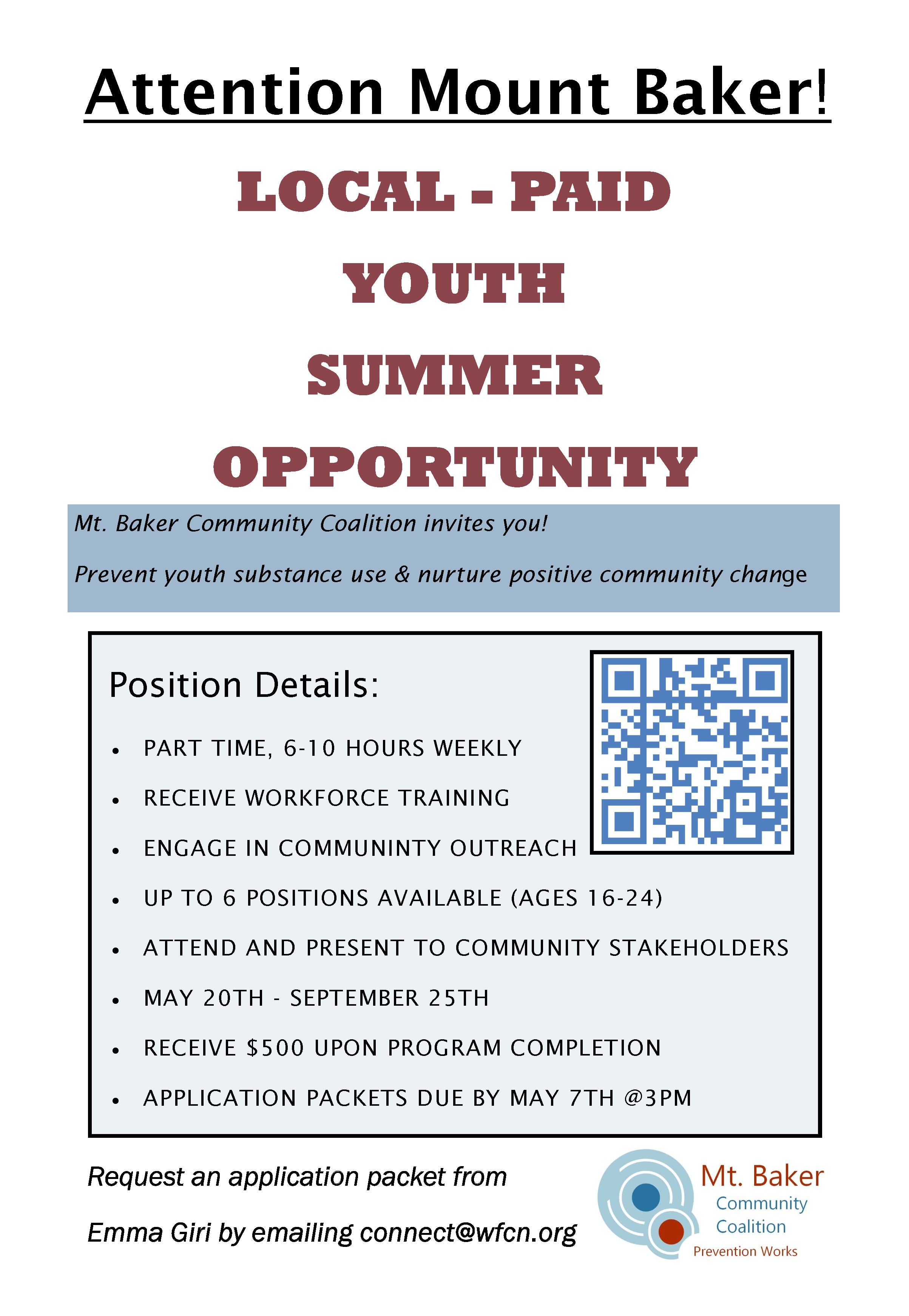 Title: Mount Baker Youth Substance Use Prevention Youth Fellow
Brief Description: Assist the Mt. Baker Community Coalition (MBCC) to complete grant-based projects such as Alcohol Community Assessment of Neighborhood Stores (CANS) and Cannabis Sticker Shock Campaign, engage in community outreach and attend/present to coalition meetings as youth/young adult representatives.
FTE/Status: Seeking applicants ages 16-24 for up 6 paid part-time youth leadership and workforce development fellowships. Typically, 6-10 hours a week, depending on the context of placement. Position begins May 20th and ends September 25th, 2021.
To Apply:
Request an application packet by emailing Emma Giri at connect@wfcn.org. Complete the application, with the parent consent form and background check.
Complete the Reflective Writing Prompt (see below for instructions).
Return your completed application and Reflective Writing Prompt to info@wfcn.org by May 7th at 3:00 pm.
Reflective Writing Prompt Instructions:
Note: This writing sample should take you no longer than 1 hour to complete. We are looking for your first impression response and to get to know you.
Before you begin, consider this: As a person who lives in the Mount Baker Community, you have likely visited and passed by neighborhood stores where alcohol and cannabis are sold. You may have concerns, thoughts or ideas about these environments for you, your friends and peers as well as other opportunities for access to alcohol and/or cannabis.
Please write a short paragraph (300-500 words) in response to the prompt, "Why would you want to be part of positive change to ensure a healthy environment for young children, you and your peers and families, and what would you bring to a team?"
Essential Functions
Attend prevention skills education trainings.
Attend, design, and implement sessions for development of CANS and Sticker Shock Campaign.
Assess local neighborhood stores, communicate with managers and staff, collect and analyze data for Community Assessment of Neighborhood Stores (CANS) effort.
Attend MBCC meetings and present data and findings from CANS and outcomes from Sticker Shock Campaign.
Be an ambassador for the MBCC; help the community increase awareness about the coalition's purpose/efforts within your circles of influence, following best practices in prevention (family, school, peers, etc).
Generate ideas for future youth engagement in the MBCC.
Assist in designing retailer education packets and recognition material.
Manage internship requirements as outlined by MBCC.
Preferred Skills or Characteristics
Ability to demonstrate contextual experience in the Mount Baker Community including residence, association, or historical experiences.
Organizational skills and ability to navigate community relationships.
Strong verbal communication skills, public speaking, community outreach.
Positive attitude.
Interest in change for positive community health and social justice.
Benefits
Professional development, professional recommendations.
Community networking and awareness.
Meaningful work and recognition for a job well done.
Personal satisfaction from making a positive change in your community.
Resume writing assistance.
Compensation
Upon project completion, in September, each Baker Youth Prevention Fellow will receive $500 for completing the project and essential functions.
View the Summer 2021 Mt. Baker Substance Use Prevention Youth Fellow Position Flyer.
---
Elevating Hope & Positive Community Norms to Inspire More Good
We are so proud of the families and community in Mount Baker! We know wonderful things and want to "Shout them Out!"
Did you know?
More than 7 out of 10 Mount Baker High School Students say their families have clear rules about alcohol and drug use! In fact, 93.9% of 8th graders, 82.1% of 10th graders, and 72.2% of 12th graders said their families have clear rules about alcohol and drug use in the 2018 Washington State Healthy Youth Survey.
Way to go Baker Families!
We know it is important to keep conversations going throughout adolescence! Here are a few online resources for families:
Did you know?
More than 7 out of 10 Mount Baker High School Students know they have Trusted Adults in their community! When 8th, 10th, and 12th graders were asked it there are adults in their neighborhood or community they could talk to about something important, between 72-79% said they do have adults they could go to. Research tells us that having just one trusted adult lowers risk for youth. We are so glad most students have someone they can go to outside of their home, if they need to talk about important issues. We also recognize there are some youth who do not know who could be a Trusted Adult in hard times. We want ALL youth to have at least one Trusted Adult! If you have youth in your life, we invite you to learn how to be a Trusted Adult. Visit madhope.org/trusted-adult. We Are Baker Strong!
We launched our first ever Positive Social Norms Campaign: We Are Baker Strong! in the Spring/Summer of 2020: The campaign uses data from the 2018 Washington State Healthy Youth Survey (HYS) (conducted by WA Department of Health (DOH)) & the 2019 Community Perceptions of Youth Substance Use Survey (conducted by WA HCA/DBHR), to highlight healthy behaviors already happening in community. Messages were selected by youth and parents and tested in focus groups of middle and high school students and adults.
Furthermore, messages focus on life choices practiced by the majority of local youth & families. However, the community as a whole can be unaware of facts. Research tells us it is common for communities to have misconceptions about choices their fellow community members are making. Ensuring accurate perception is powerful. It is most powerful to focus on positive behavior that is "normal" or "most common" possible solutions & what we can create together.
One assumption in community can be that youth think it is okay for friends to consume alcohol and use substances, yet the HYS shows us that across grades 6, 8, 10, and 12, 82% or more of students actually think it's wrong for someone their age to use. This shows a misunderstanding in community about youth and their relationship with alcohol and substances. The main goals of our campaign are to eliminate these misconceptions and substitute them with the positive facts that inspire individuals to act in healthy ways. To see all of our messages, learn more about why these are important, and/or order a banner/yard sign visit wfcn.org/WeAreBakerStrong.
Between July and November, campaign yard signs and banners were posted at schools, businesses and on private property. Our hope is this campaign will nurture a community that is more connected, takes pride in one another, and believes in the integrity and capacity of our youth. Our goal aims at a strong, positive culture that enables youth to thrive.
Wondering how to get connected and/or follow our work?
Founded 3 years ago, in the fall of 2017, The Mt. Baker Community Coalition (MBCC) serves all those living within the boundaries of the Mount Baker School District service area - from Glenhaven to Glacier. We strategically uplift community strengths that offer well-being to all, through substance use/abuse prevention strategies and mental health promotion. We work together to provide education, resources, eliminate risks, increase protective factors, and leverage community strengths and assets. This is made possible by many community volunteers and collaborative relationships.
Join us as we meet on the 3 rd Monday of each month (except August and December) from 1:45 pm to 3:45 pm. We currently meet virtually via Zoom. When face to face meetings are allowed, the Mount Baker School District administration offices in Deming will again host our meetings.
How is this work funded?
Currently, MBCC is funded by Community Prevention Wellness Initiative (CPWI) managed from WA HCA/DBHR and funded through WCHD. In spring of 2020, we applied for a federal Drug Free Communities (DFC) grant from the CDC. We will receive notification of the status of our award for DFC funding in December 2020. We continue to seek in kind donations and collaborative partnerships to ensure sustainability of prevention in Mount Baker.
Gratefully,
Wa'Lynn Sheridan, Mt. Baker Community Coalition Coordinator
---
MBCC MISSION
The mission of the Mount Baker Community Coalition is to strategically build a strong community that offers well-being to all by focusing on youth and families, through substance use/abuse prevention strategies and mental health promotion. We work together to provide education, resources, eliminate risks, increase protective factors, and leverage community strengths and assets.