FREE — CONFIDENTIAL — OPEN
NAMI Connection Recovery Support Group - This structured support group, facilitated by trained peers, offers respect, encouragement, connection, and hope for individuals ages 18+ living with any mental health challenges. Learn from each other's experiences, share coping strategies, and offer each other encouragement and understanding in a safe, confidential space.
NAMI Family Support Group - This structured support group is for age 18+ family members, parents, caregivers, and friends of individuals struggling with mental health conditions. Join a caring, understanding group of people who help one another by utilizing their collective life experiences and learned wisdom to achieve a renewed sense of understanding and hope for their loved one living with mental health challenges.
Upcoming Discussion Group Dates:
April 21 @ 10:00 - 11:30 AM
May 19 @ 10:00 - 11:30 AM
Location: East Whatcom Regional Resource Center, 8251 Kendall Rd, Maple Falls, WA 98266
Questions? Please contact the NAMI Whatcom Office at (360) 671-4950 or namiadmin@namiwhatcom.org.
Resources provided by the Resilience Fund of Whatcom Community Foundation. COVID-19 precautions are in effect; masks required & sign-in sheet for contact tracing.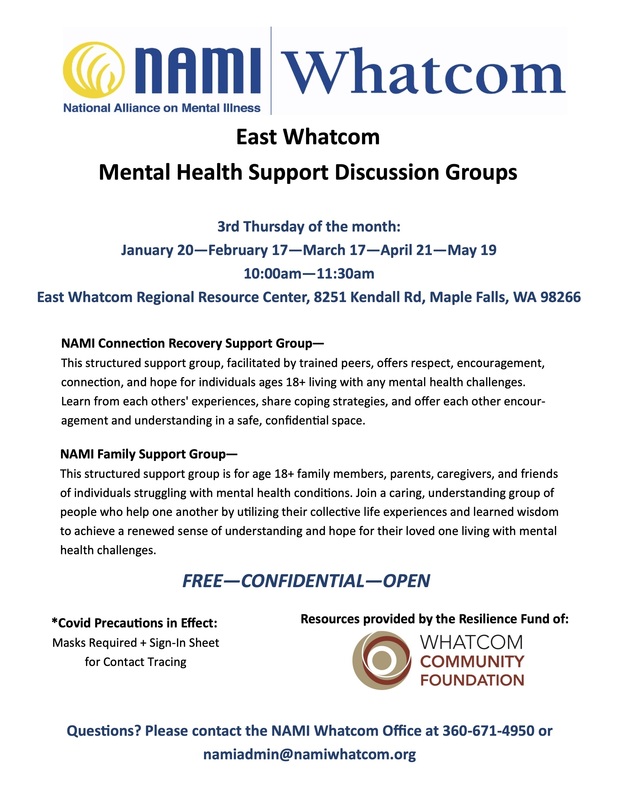 ---
Mount Baker School Disclaimer: The district does not sponsor or endorse this event/information and the district assumes no responsibility for it. In consideration of the privilege to distribute materials, the Mount Baker School District will be held harmless from any cause of action filed in any court or administrative tribunal arising out of the distribution of these materials, including costs, attorney's fees and judgments or awards.