We Want to Hear from You!
What are your experiences with family & youth and dental services at the EWRRC?
WHO?
We are 10 master of public health students from the University of Washington.
WHAT?
Jessica Bee at the EWRRC has asked for our help to learn about how East Whatcom residents use family & youth services and dental services.
WHEN?
From November 28 - December 2, our group will visit Maple Falls and neighboring communities to talk to community members about their experiences at the EWRRC.
WHY?
We want to hear what you love about the EWRRC and what changes you'd like to see. Your responses will be anonymous. We will write a report and make a presentation to the EWRRC sharing your ideas.
SHARE YOUR THOUGHTS WITH US!
Participate in our survey | Join our focus groups
Email Elena at arakaele@uw.edu or call/text at (206) 631-1638 if you're interested in sharing your thoughts! We will follow up with participants during the week of November 28. Thank you! Participants will receive gift cards for their time and effort! For more information, please contact Elena Arakaki at arakaele@uw.edu.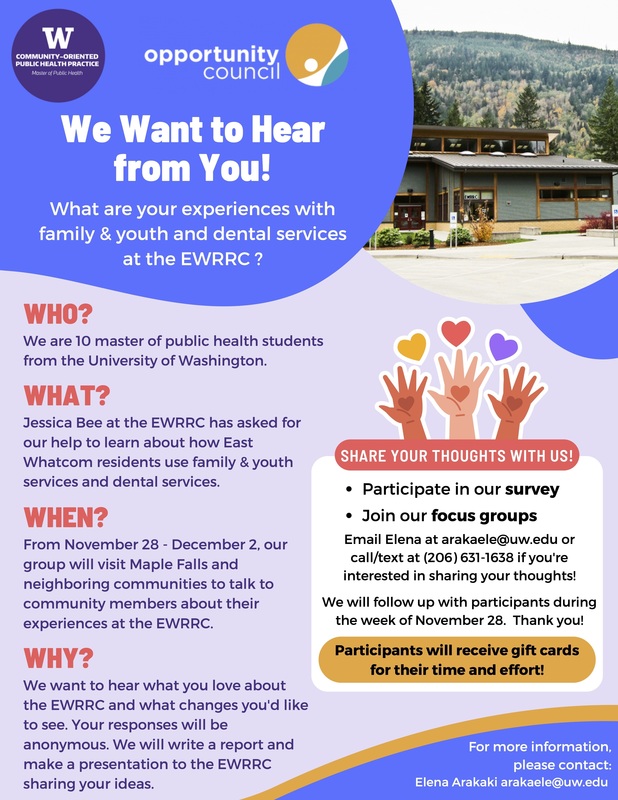 ---
Mount Baker School Disclaimer: The district does not sponsor or endorse this event/information and the district assumes no responsibility for it. In consideration of the privilege to distribute materials, the Mount Baker School District will be held harmless from any cause of action filed in any court or administrative tribunal arising out of the distribution of these materials, including costs, attorney's fees and judgments or awards.