There are information packets in the High School Office. All paperwork is due by Friday, January 27th
* * * * * * * * * * * * * * * *
Scholarships are available - please contact Wendy Cosgrove for more information at wendycosgrove@live.com or (360) 410-6360.
* * * * * * * * * * * * * * * *
The Winter Ride Ski & Snowboard and Transportation Youth Program is coming up in March 2023!
---
The Winter Ride program has a long history at Mt. Baker, impacting countless community members, parents and Baker staff. We are deeply committed to continuing to invite and host youth at the mountain through the Winter Ride ski, snowboard, and transportation program!
Winter Ride serves youth in grades 6-12 for four weeks in March, with lessons required for all new participants. Skill-based lessons are available for all skiing and snowboarding ability levels. Advanced skiers and snowboarders participating in lessons have the option of skill-based instruction or the Mountain Skills program. Mountain Skills introduces advanced skiers and snowboarders to mountain education and winter ecology through ski area exploration.
REQUIREMENTS FOR PARTICIPANT ELIGIBILITY
Grades 6 through 12 (currently enrolled)
Registration with a Mt. Baker approved Winter Ride Organization
LESSONS REQUIRED for all new participants. Online registration for Mt. Baker Winter Ride Lessons (abilities 1-8) or Mountain Skills (abilities 6-8)
DATES & TIMES
Saturdays March 4th, 11th, 18th and 25th in 2023
9:00 AM - 11:00 AM each day for 4 weeks (Lessons and Mountain Skills)

Ski or snowboard lessons are for abilities 1-8
Mountain skills are for ski or snowboard abilities 6-8 and include: snow science and safety, snow algae and community science, careers in the outdoors, and nature and well-being

Onward Season Passes and Rentals optional, good March 4th through winter season end. 2023 Onward Season Pass Holders will be eligible to purchase 2023-2024 season passes in the returning passholder priority window
ONLINE Registration will begin in November 2022
PRICES
Onward Pass:

Youth Age 11-15: $155 + Tax
Young Adult 16-18: $240 + Tax

Rentals: $115 + Tax
Lessons/Mountain Skills: $75 + Tax
RESOURCES AND MORE INFORMATION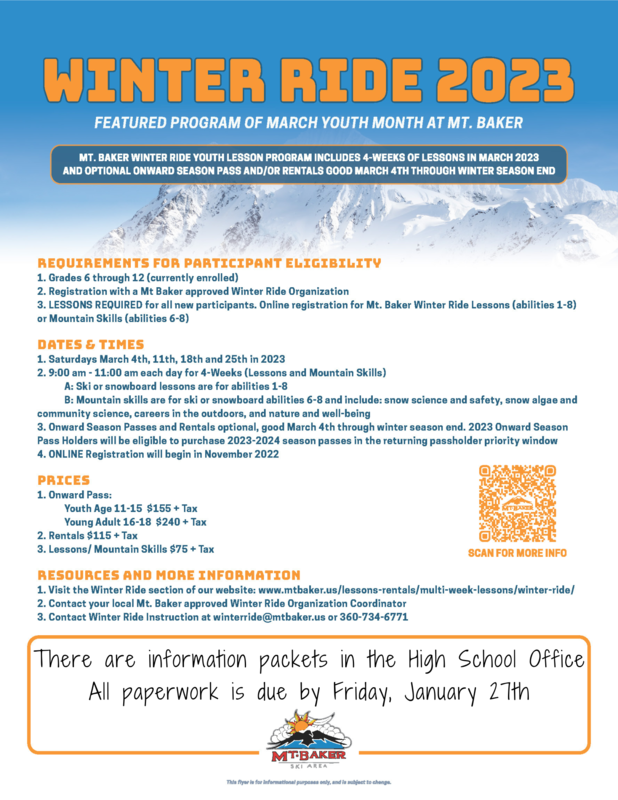 Source: Mt. Baker Ski Area. Winter Ride Ski & Snowboard and Transportation Youth Program, https://www.mtbaker.us/lessons-rentals/multi-week-lessons/winter-ride/. Accessed 4 November 2022.
---
Mount Baker School Disclaimer: The district does not sponsor or endorse this event/information and the district assumes no responsibility for it. In consideration of the privilege to distribute materials, the Mount Baker School District will be held harmless from any cause of action filed in any court or administrative tribunal arising out of the distribution of these materials, including costs, attorney's fees and judgments or awards.