Mother Earth Day is just around the corner and we are hoping to create a community wide celebration! Together with Children of the Setting Sun Productions and other environmentally focused organizations, we are planning a Mother Earth Day celebration on Friday, April 22 from 4:00 PM to 6:00 PM in Bellingham.
We would like to invite Indigenous and non-Indigenous youth to share their words and stories about Mother Earth. We are hoping to find 8 young speakers (middle school to college) to speak at the event for approximately 5 minutes each. CSSP is hoping to include a broad spectrum of speakers including members of the BIPOC community and non-BIPOC community.
Your help in sharing this opportunity with interested youth would be greatly appreciated.
Please click here for a Google Form where students can nominate themselves to be speakers. Forms are due by March 22. We will gather all speakers in early April to discuss the event in more detail and answer any questions.
Thanks so much! If you have any questions, please contact Free Borsey at (360) 995-9749 or free@settingsunproductions.org.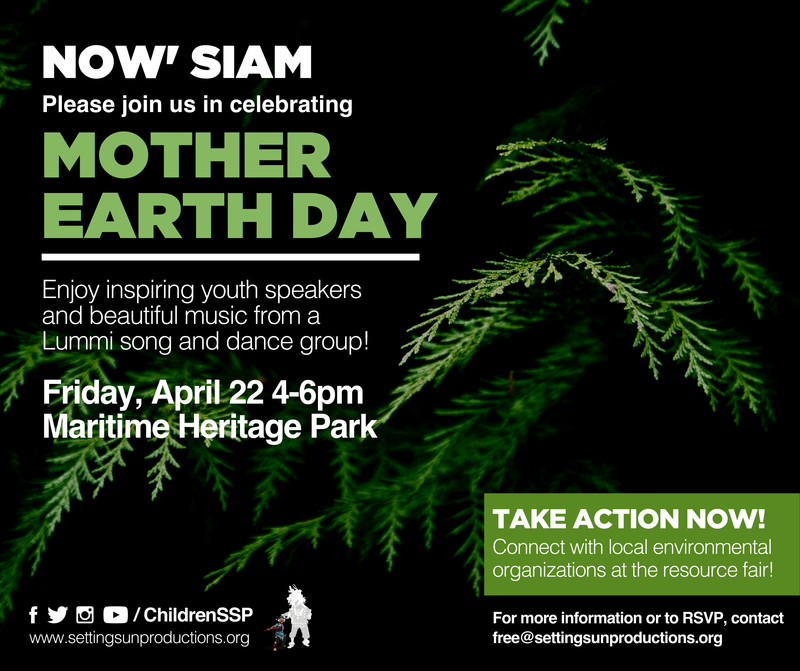 Mount Baker School Disclaimer: The district does not sponsor or endorse this event/information and the district assumes no responsibility for it. In consideration of the privilege to distribute materials, the Mount Baker School District will be held harmless from any cause of action filed in any court or administrative tribunal arising out of the distribution of these materials, including costs, attorney's fees and judgments or awards.